Books
May 18, 2009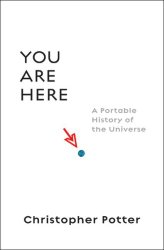 My review of Christopher Potter's You Are Here: A Portable History of the Universe ran today at PopMatters.
In stark contrast to what I said about Paris From The Ground Up, sometimes it is possible to take a subject of massive scale and fit it into a compelling, comprehensive book. Potter has written an extraordinary narrative explicating the origins (and destination) of our universe and humanity's place within it. He covers everything from the size and age of the universe, the fundamentals of quantum mechanics, the origins of life on Earth, and the maturation of science out of its roots in ancient philosophy. It's a crash course in the workings of the world and beyond, crafted with attention to the right details.
Potter is not a scientist, and I think that helps him communicate these complex matters better to the average reader. You Are Here is an incredible, mind-blowing book full of satisfying answers, but more importantly full of questions that will leave readers to ponder their own perception of existence.