Books
April 18, 2012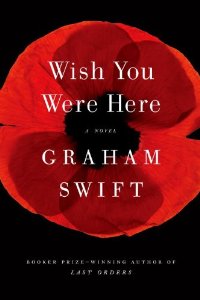 My review of Graham Swift's Wish You Were Here ran in today's Boston Globe.
What a gloomy, gloomy book, but one whose gloom is earned and makes for a compelling (if, at times, challenging) read. It actually bears some similarity to Norumbega Park, in that it concerns family legacies, the importance of heritage and property, and the often unspoken emotions that drive relationships. Unlike that book, it's raw and emotional, with a story that deals with matters of consequence, rather than petty frivolities. The protagonist, Jack Luxton, is plummeting into despair, haunted by the deaths of his parents and loss of his ancestral farm in Devon, England; his brother's death as a solider in the Iraq War; and the unraveling of his marriage to the strong-willed, but icy Ellie.
The book is largely an exploration of Jack's memories and inner turmoil; a loose framing story provokes the reminiscence, but is of little interest. Swift is a capable writer, and his ability to create heartwrenching setpieces makes Wish You Were Here both an engaging read, and hard to stomach. It's a brutally dark book, but just manages to escape being oppressive.