Books
November 13, 2009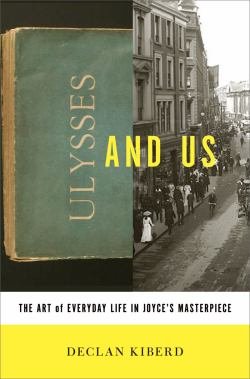 My review of Ulysses and Us: The Art of Everyday Life in Joyce's Masterpiece ran today at PopMatters.
This is a book intended for those who have already read Ulysses, as it relies on a relative familiarity with the plot and events. So beginners may not find Ulysses and Us very welcoming. Nevertheless, it's an excellent exploration of the novel and of Joyce's original intentions: that his epic of the common man be enjoyed by all, not just by stuffy intellectuals. Kiberd argues that the focus on hidden clues and trivia have obscured the richness of the story and intimidated the average reader from taking up what is, admittedly, a very difficult book. He wants to make Ulysses comprehensible, and combat the difficult reputation it has gained over the years. He wishes to make Ulysses approachable.
What struck me about Kiberd's walkthrough of the novel is how he divides the chapters. Those who have studied Ulysses will be aware that Joyce associated each chapter with an idea from The Odyssey which roughly corresponded to the action, such as "Penelope" or "Oxen of the Sun." These chapter titles were not part of the original text but rather included in private correspondence subsequent to publication. Joyce had removed them from the novel, but the academy quickly latched onto them as a means of structuring the story. This had the unfortunate side-effect of entrapping Ulysses within the framework of a classical epic, exactly what Joyce had feared when he decided to eliminate the titles.
Kiberd's approach is much more appropriate. He titles each chapter based on the primary action that takes place — "Eating," "Walking," "Ogling" — which brings the story out of the realm of epic heroes and back down to earth, where Leo Bloom, and the rest of us, dwell. It frees the reader from the lofty, pretentious preconceptions that come along with the Odyssey-inspired titles and allows you to really consider what's happening in the book on its own terms.