Books
October 5, 2010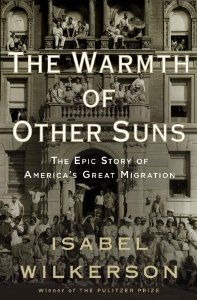 My review of The Warmth of Other Suns by Isabel Wilkerson ran today at PopMatters.
The book examines the oft overlooked history of the Great Migration, the mass exodus of African Americans out of the South in the first half of the 20th century. Wilkerson spent years interviewing migrants, over 1,200 in all, and ultimately selected three individuals and their life stories to serve as guides through this truly harrowing experience. Ida Mae Gladney, George Starling, and Robert Foster left their homes in the South in the 30s, 40s, and 50s, respectively, each seeking respite from the terrors of Jim Crow. In the North and West, they found new opportunities and although they were free from the institutionalized racism and oppression they grew up with, they encountered prejudice just as virulent, if not as violent.
It's a great book, and at times, difficult to read because of the horrors described within, but it's essential to understanding the modern history of race relations the United States.