Books
February 25, 2011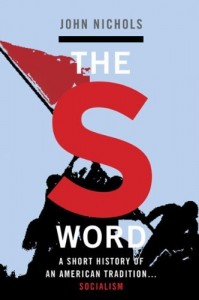 My review of The S Word: A Short History of an American Tradition… Socialism by John Nichols ran today at Popmatters.
:: Order at Amazon.com ::
The book features six essays exploring how, contrary to the protestations of modern conservatives, socialism played a large role in the development of American culture and politics. There are lots of interesting stories in here, such as the largely indirect relationship (though with one actual, albeit formal, correspondence!) between Abraham Lincoln and Karl Marx, the long reign of municipal socialist mayors in Milwaukee in the first half of the 20th century, and the mainstreaming of socialist concepts and ideals by politicians who felt the need to respond to a growing leftist constituency. Unfortunately, Nichols spends too much time taking shots at easy targets like Sarah Palin and Glenn Beck. The S Word is, in large part, a response to their ill-informed, ignorant mischaracterization of socialism, but there's little need to dwell on how very wrong they are; to the already left-leaning readers Nichols seems to be targeting with his strident tone, it's obvious.