Books
September 10, 2011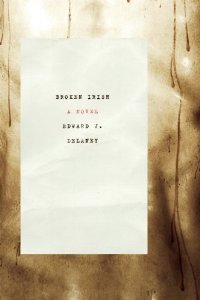 My review of Broken Irish by Edward J. Delaney ran today in the Boston Globe.
I was very pleased that Delaney managed to write a South Boston tragedy that didn't lean too heavily on the genre-fiction standbys of organized crime or drug abuse. It's not that those topics aren't important or very real parts of South Boston's history, it's that writers and filmmakers seem uninterested in the actual human stories behind them and instead rely on them for cheap, lazy sensationalism. Really, after The Departed, what more is there to say about the South Boston mob in fiction?
:: Order Broken Irish'); ?> at Amazon ::
He also doesn't romanticize the struggles that poor Southie residents endured. I haven't seen Good People, the Tony-award winning Broadway play about a struggling, South Boston single mother confronting a successful ex-boyfriend who made it out of the neighborhood, but the description alone gives me pause. There's a habit in fiction of conflating deprivation with virtue, casting the poor as modern-day noble savages whose purpose is to teach more affluent, successful characters the important life lessons that their comfortable lifestyles have blinded them to. It's patronizing and, again, lazy.
Broken Irish has enough respect for its characters that it's willing to let them fail, and be stupid, and make bad choices. It's willing to let them be real people, whose troubles have depth and are fraught with emotion. Delaney charts a bold course that addresses the issues of class, power, family, trust, and sexual exploitation, but never opts for the easy path, indulges in cliche, or does anything that leads the reader to believe he has no regard for his characters.