Books
March 21, 2011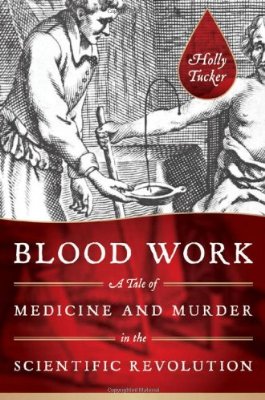 My review of Blood Work by Holly Tucker ran today at PopMatters.
:: Order at Amazon.com ::
This was a great story, one of those nonfiction tales that reads like fiction. It reminded me quite a bit of both London Rising and Duel at Dawn, as it concerned the early days of science in enlightenment France and England. Tucker tells the story of some of the earliest blood transfusion trials, as they were undertaken by the flamboyant, brash natural philosopher Jean-Baptiste Denis. His daring style and unapologetic arrogance infuriated the establishment he so desperately wished to join, and his scientific experiments scandalized Parisian society. Tucker explains how potentially life-saving science was hampered by the strict religious morals of the time, and shows how differences in class and politics motivated enemies of Denis to design a terrifying conspiracy that ended in murder. Blood Work asks readers to consider the relationship between science and the society it seeks to serve, and draws strong parallels between the 17th-century resistance to blood transfusion, which effectively sidelined the procedure for two centuries, and the ludicrous 21st-century battles over stem-cell research.
Ms. Tucker will be speaking at Harvard University on April 14th, 2011.