Music
December 9, 2009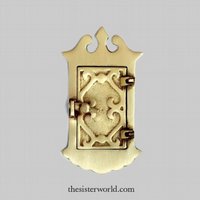 Pre-order at Amazon.com. Release Date: March 9th, 2010, on Mute.
I'm currently working on a feature on Liars that's slated to appear in a forthcoming issue of ALARM Magazine, and have had the chance to acquire a promo of their latest album, Sisterworld, set to be released in March of 2010. I've also been fortunate enough to be able to speak with frontman Angus Andrew, to discuss the new album. We had a very cool conversation about the concept behind it, an audio exerpt of which is presented below. I'm a tremendous fan of Liars, and have happily followed each and every curveball they've thrown along the way. I was able to review They Were Wrong So We Drowned and their 2007 self-titled release, and look forward to being able to write about Sisterworld as well.
Sisterworld is inspired by experiences the band had while living in Los Angeles, and sheds light on what Andrew considers to be the unseen parts of the city. He talks about the concept being inspired by the characters he would meet at an after-hours club near his apartment, people who he saw as not quite fitting into the agreed-upon narrative of Los Angeles as a place of opportunity and optimism.
Angus Andrew on the inspiration for Sisterworld [1m 2s]
[audio:http://www.michaelpatrickbrady.com/audio/angus.mp3]
Though I'll be able to go into greater detail in the ALARM piece, I'll just say that Sisterworld is a great album, one that lives up to the band's reputation for risk-taking and innovation. "Scarecrows on a Killer Slant" is the real standout for me, a blistering, adrenaline-fueled track that's pointed, accusatory, and intensely cathartic. Partly inspired by a murder Andrew witnessed in his L.A. neighborhood, the song is very powerful, and Andrew gave me some great insight into his conflicted emotions about the event, which I'll be able to talk about in the article.
Sisterworld features some new sounds for Liars, like horn and string arrangements that add some depth and texture to their already daring compositions. The lead-off track, "Scissor," uses the strings to craft a delicate, inviting introduction to the album before the band sweeps in and shatters the calm.
Liars — "Scissor" from Sisterworld
[audio:http://www.michaelpatrickbrady.com/audio/scissor.mp3]
Keep an eye out for my piece in ALARM when it's out this spring, and pick up Sisterworld when it's released in March.