Books
January 5, 2009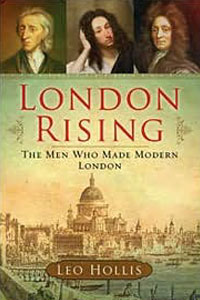 My review of London Rising: The Men Who Made Modern London by Leo Hollis ran today at PopMatters.
Hollis recounts the aftermath of the Great London Fire of 1666, a cataclysm that left nearly 80% of the city in ruins and was something of a climax of misfortune for England, a capstone on years of plague and civil war. He shows how in the face of great adversity, the people (and perhaps more importantly, the government) of Great Britain put their faith in men of reason and science, what was then termed 'Natural Philosophy.' Their trust in empirical science and new, more enlightened ways of thinking helped London emerge from this disaster stronger and better able to handle the demands put on modern metropolises. It's a lesson contemporary readers should take heed of.
Too often over the last eight years, in the United States, government (and a large segment of the populace) has shown unveiled disdain and scorn for intellectual, enlightened thought on any number of issues, from global climate change to sex education. Adherence to ideologies and dogma have shut out the logical, reasoned thinking that has long been what made the United States a leader in the world, and in fact form the very foundations of the nation's mission.
Jefferson, Adams, Madison, Franklin: these founding fathers all recognized the importance of Enlightenment ideals and sewed them into the fabric of American society. Our most recent president and his administration seemed to delight in ripping at the seams. I'm happy that this review is my first of 2009, as it seems a good way to start off the new year, looking optimistically toward reasoned thinking and a new administration that believes in such a thing.
[tags]London Rising, Leo Hollis, Enlightenment, Reason, Book Review, PopMatters[/tags]