Books
November 2, 2010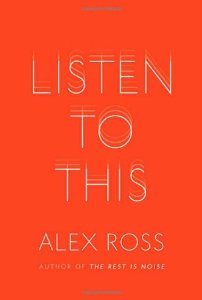 My review of Alex Ross' Listen to This ran today at PopMatters.
I was a big fan of The Rest is Noise; that book took a large and difficult subject — 20th century classical music — and made it comprehensible and engaging, and Ross' writing was compelling and navigable. So I'm a little disappointed with Listen to This, as I find the prose to be one of its bigger stumbling blocks. The book is a collection of what Ross believes are his best pieces from his stint at The New Yorker, and includes essays on intriguing composers like John Luther Adams and transgressive pop acts like Radiohead and Bjork. When Ross is exploring the frontiers of modern music, he's in good shape. Discovery seems to invigorate him.
Unfortunately, the retrospective or historical pieces tend to be dry and difficult to become involved in, and Ross seems to lose his ability to communicate the importance of his subjects. The essay format forces some compression; where Ross was able to expand upon the past in his previous book, in these short bursts he lacks the room to fully flesh out his narratives. This is especially prominent in the book's one new piece, "Chacona, Lamento, Walking Blues," which spans 400 years across five pages.