Books
January 19, 2009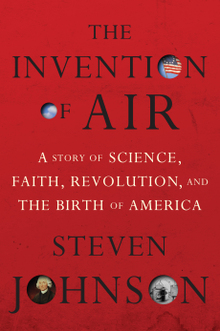 My review of The Invention of Air by Steven Berlin Johnson ran today at PopMatters
I was drawn to this book for a number of reasons. My obvious interest in history, particularly history that encompasses the period surrounding the American Revolution, was a factor. More importantly, however, was the history of the author. Mr. Johnson was the co-founder of FEED Magazine, one of the web's early publications. I was in high school when FEED was around, and it was a major influence on me. It featured intelligent, thoughtful writing and commentary on truly fascinating subjects, and undoubtedly pushed me toward what I do today. The Invention of Air is no different, blending a fresh historical narrative with an insightful examination of how good ideas are formed.
Johnson's subject, Joseph Priestley was a 18th century English gadfly with a habit of making important friends and an eye for experimentation. To modern readers, he seems like an unusual creature, a man with equal interest and proficiency in science, theology, and politics. He exists in these three worlds simultaneously and manages to form a coherent interrelationship between them. A progressive spirit, Priestley's forward thinking views won him accolades in science, scorn in theology, and outright violence and hostility in politics.
While Priestley's compelling life story drives the book, The Invention of Air is really about how innovation is fostered and nurtured. Johnson uses Priestley's life to identify the various factors that allowed him to reach his most famous achievement, the "discovery" of Oxygen. It's a tremendous undertaking, performed gracefully and without extraneous tangents by the author. The Invention of Air was a great read, and while I enjoyed myself while reading it, I couldn't help but feel a little sad that after I put it down I wouldn't be able to continue reading engaging content at the long-defunct FEED.
[tags]Steven Berlin Johnson, The Invention of Air, Joseph Priestley, Innovation, Review, PopMatters[/tags]