Books
November 12, 2013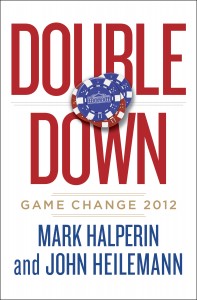 My review of Double Down: Game Change 2012 ran today in the Boston Globe.
Back in 2010, when Game Change came out, I had resolved to avoid the book mainly because I had no use for Mark Halperin. I knew him as the man behind "The Note," a particularly noxious political roundup that pandered to the worst impulses of its audience of entrenched insiders. But when I finally caved and picked up the book, I was stunned by how engrossing it was. Halperin and Heilemann really captured what was great about the 2008 election, and their portrayals of the Obamas, the Clintons, and the Edwardses were riveting (not to mention their autopsy on the dysfunctional McCain/Palin campaign).
The book was great, maybe in spite of the authors, because the story was so great. You really couldn't mess it up. As I mention in the review, Double Down suffers a bit because the characters just aren't as interesting as they were in 2008. The Republican challengers, in addition to being terrible people, are terrible candidates. There's not a likable, or even sympathetic, one in the bunch. Halperin and Heilemann try and fill the gaps by overwriting with overwrought similes and analogies, most of which are laughably distracting.
But there's good gossip here. Much of it aimed at the thorns in Mitt Romney's side, likely dealt out by Romney surrogates looking for revenge. Chris Christie, John Huntsman, and Newt Gingrich all get an extensive working over. So while it's not the grand, transcendent story that Game Change was, Double Down still manages to offer a little entertainment for those who enjoy the behind-the-scenes insights Halperin and Heilemann are so adept at scrounging up.