Books
March 17, 2008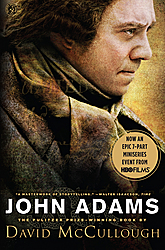 My review of John Adams by David McCullough ran today at PopMatters.
Being from Massachusetts, I've always admired Adams and though him the most approachable Founding Father. He's largely escaped the kind of idolatry that has elevated Washington out of reach and eschewed the precarious moral paradoxes which make Jefferson such a difficult case. Adams isn't perfect, but at his core is driven by integrity and determination. He's a paragon, one who can still serve as an example to be followed in both public and private life.
John Adams is, ultimately, a story about relationships, the most important of which is the one between John and his wife Abigail. McCullough does an excellent job of letting readers see the deeply loving and personal side of their story, which is a constant thread throughout the tumult of their times.
This is another "movie tie-in" edition review, like the one I did for No Country for Old Men, and features Paul Giamatti on the cover. He's playing Adams in the seven-part HBO miniseries based on the biography, which seems like a weird bit of casting to me, but as I didn't initially realize it was Giamatti on the cover, perhaps he's managed to disappear into the role more than one might expect.
Buy at Amazon
John Adams
by David McCullough
Related Posts
1776: The Illustrated Edition
by David McCullough
Union 1812
by A.J. Langguth
Armchair Reader: Civil War
by Various (including me)
Again, I find myself preferring the cover design of the "movie tie-in" version over the original. Maybe they're just putting more effort into such editions than they have in the past. The bold, sans-serif rendering of the title, JOHN ADAMS, is really amazing. It's so striking, it's practically glowing. From my bookshelf, the title seems to project itself across the room, drowning out the less severe spines around it. It's a simple design but extremely effective. I haven't seen the film so I can't judge Giamatti's performance, but my definitive John Adams will always be William Daniels, as I was exposed to 1776 at a rather young age. I was also a huge Knight Rider fan as a kid, and probably transferred my good feelings about KITT (for which Daniels was the voice) to his portrayal of John Adams.
[tags]John Adams, David McCullough[/tags]