Books
August 31, 2010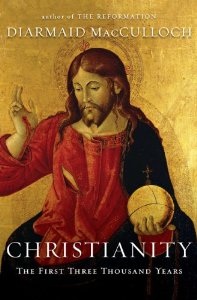 My review of Christianity: The First Three Thousand Years by Diarmaid MacCulloch ran today at PopMatters.
This thousand-page behemoth neatly fits in three thousand years of Greco-Judeo-Christian theology, touching on every sect, schism, and segment of Christianity and their place in the world. That's a rate of roughly three years per page! Though single-volume treatments of such large topics can be troublesome, MacCulloch is a deft writer, and infuses enough good humor and personality into his prose to keep things moving along smoothly.
Christianity: The First Three Thousand Years is respectful but not reverent, a clear-eyed and illuminating investigation that is packed with surprises, and an excellent resource for the believer and non-believer alike.