ALARM MAGAZINE | ISSUE #37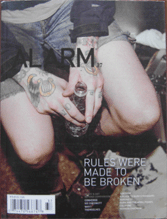 Issue 37 of ALARM Magazine is out now, and contains my feature-length interview with vibraphonist Jason Adasiewicz and a review of Lightning Bolt's Earthly Delights. I was excited to talk to Adasiewicz; I'm a big follower of the Chicago improvisation scene and enjoyed his work with Exploding Star Orchestra. Varmint, his record with his group Rolldown, was one of my favorites last year. As was Earthly Delights, which I think finally captured the madness of the Bolt's live shows on record and expanded the horizons of a band that could have easily fallen into a noisy, repetitive rut. I know Sisterworld is out already, but my big feature with Angus Andrew is still awaiting publication in the next issue of ALARM. It's worth the wait.
Update: The Jason Adasiewicz feature is now available online.