Books
October 22, 2007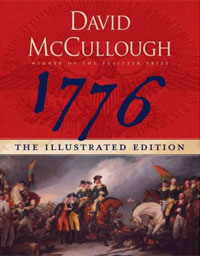 Today, at PopMatters, my review of 1776: The Illustrated Edition.
As I previously noted, this expanded and illuminated edition of the book includes thirty-seven pull-out reproductions of primary source material, everything from communications between British generals and their parliamentary overseers, letters between Washington and his wife, and numerous ancillary documents like surveyor's maps and newspaper front pages.
It's pretty much exactly the kind of thing I love to read, and I'm thinking about buying a proper coffee table on which I can display it appropriately.
The content is superlative, but what really deserves praise is the exquisite design of the book.
Book producers Becker & Mayer! expertly wove the supporting images, illustrations, and reproductions throughout McCullough's original narrative. They didn't just toss all these new elements in willy nilly; the cautious and thoughtful implementation enhances the story, drawing the reader into an entertaining and informative interactive experience.
One very nice touch that I reference in my review is the seal which is used to fasten the document envelopes shut. These stickers bear the emblem of the "Board of War and Ordinance," which provided valuable support for soldiers during the American Revolution, doing their best to make sure supplies and resources were properly distributed. It's a subtle touch, but the book designers have embedded quite a bit of meaningfulness in those seals. What's contained within the book's plain brown envelopes is vital material for the reader, and the overall presentation effectively conveys that importance. The care and detail paid by Becker & Mayer! in this book's design has definitely piqued my interest in some of their other works.
Buy 1776: The Illustrated Edition
at Amazon.
[tags]1776: The Illustrated Edition, David McCullough, Becker and Mayer!, Book Design, American Revolution, History[/tags]