BOSTON
April 11, 2014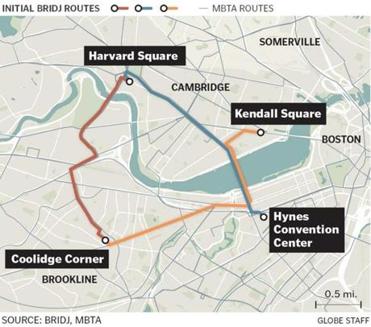 "Data driven bus service set to roll out," writes today's Globe. "Venture aims to predict rider's needs."
The story goes on to describe Bridj, a new private bus service that will ferry riders around Boston from point A to point B with no stops in between, for roughly $5 to $8 a trip. Its founder, Matthew George, says that he "considers Bridj a 'relief valve' for the MBTA, not a competitor," but if that's true, then I don't think he's considered the potential effects his project will have on the transit system and the people of this city.
The initial Bridj routes are planned to run express between the Hynes Convention Center and Harvard Square (the route of the MBTA's #1 bus), and Coolidge Corner to Harvard Square (MBTA #66) or Kendall Square (Green "C" Line to the #1 @ Hynes or the Red Line @ Park).
I don't know, that pretty much sounds like direct competition to me.
Let's be honest about what Bridj is. It's not a way to make transportation easier for Boston's commutters. It's a way to let a certain class of commutter, the kind who attend Harvard, or live in Coolidge Corner and the Back Bay, or who work for a tech company in Kendall Square, to get where they need to go without having to mix with the proles who live at all the stops in between. Because unless you're one of those people, you're going to have to take the T to get to a Bridj hub anyway.
And with Bridj's initial plan taking a fairly big chunk out of some of the MBTA's prime routes, that's going to hurt the MBTA's bottom line. Which means increased fares and cuts in service. If the MBTA begins to falter, is Bridj going to start picking up the slack? What happens to the people who pick up the #66 bus in Lower Allston? Will we ever get a direct Bridj route from Fields Corner to Kenmore Square, which might actually cover ground the MBTA doesn't?
Honestly, I find the blithe way that the "no stops along the way" strategy is described in the article disturbing.
With no stops along the way, travel times would be faster on Bridj than on the T," said George.
Yes, but for whom?
I'm reminded of a line from a Nick Kristoff op-ed in the New York Times about the money people are willing to spend on individual disaster preparedness, when they'd balk at supporting broader solutions through their taxes:
That's how things often work in America. Half-a-century of tax cuts focused on the wealthiest Americans leave us with third-rate public services, leading the wealthy to develop inefficient private workarounds.
And to me, that's Bridj in a nutshell. It creates a two-tiered system of transit and serves only the affluent, with no concern for the cascading consequences that will affect the people left waiting for a bus that's never going to come. Or that they can't afford to board.
The MBTA isn't perfect, but it works in aggregate. It works for as many people as it can, and there's some give and take in that. Some things suffer: some days you might wait too long for a bus, or the train breaks down, or you are victim of one of those "switch problems" that seem to crop up at the most inconvenient times.
The MBTA could easily do what Bridj does; it would just have to stop serving the vast majority of Bostonians. If that were the case, the rides would be smooth, the seats could be comfy, and Wi-Fi would be plentiful. But it wouldn't be right. And it wouldn't be good for Boston.
---